When you're planning your honeymoon or holiday, there are a few things you'll want to take into account. Firstly, you'll need to decide where you want to go. Do you want a relaxing beach holiday, or would you prefer to explore a new city?
Once you've decided on a destination, it's time to start thinking about the details. What kind of accommodation do you want? What are your must-see attractions? And don't forget about the all-important food!
Sure, anywhere is romantic with the one you love, but some destinations just cry romance. To help make things a little bit easier, we've put together a list of top 10 romantic honeymoon destinations. Book your all-inclusive holiday package and prepare for a relaxing break. These are most favorites:
1. Paris – What's not to love about the "City of Lights"? The city's architecture, parks, and monuments are beautiful any time of year. Plus, it's next to impossible to get a bad meal in this town. Add dozens of interesting museums, the picturesque Seine River, some of the world's best shopping, and that Paris charm, and you've got a winner. Get The Best Deals on All Inclusive Hotels & Resorts in 2022.
2. New York City in December – New York City is interesting any time of year, but in December, when the city is decked out for the holidays, it's magical. The department windows feature charming holiday vignettes, the tree at Rockefeller Center glistens, ice skaters glide through Central Park, and the city sparkles with holiday lights.
3. California Wine Country – Just north of San Francisco, California's wine country is a world away from the bustle of the city. Many of the region's wine estates welcome visitors for tastings and tours, and the area boasts dozens of small and interesting bed and breakfast inns, many with views of the vineyards. Napa and Sonoma Counties are home to a surprising number of excellent restaurants, which make use of the bountiful local produce and vintages.
4. Tuscany – Speaking of wine country, consider a visit to one of the original wine countries – Tuscany. The rolling hills, just outside of Florence in central Italy, are home to hundreds of small wineries as well as picturesque stone farmhouses and casually elegant eateries.
5. Tahiti – These islands have captivated travelers since the days of Paul Gauguin. Explore the French flavor of Papeete or venture to one of the smaller islands, such as Bora Bora or Moorea. You can even stay in a private cottage built on stilts over the calm Tahitian lagoon. The friendliness and welcoming nature of the Tahitian people is legendary.
6. Hawaii – A little closer to home, but no less romantic, the Hawaiian Islands combine American customs with Polynesian culture. Add beautiful beaches, Trade Wind breezes, lilting island music, and dramatic volcanoes for a one-of-a-kind experience. Find the best of everything when you book an all-inclusive vacation package with Tunextravels.com Consider the food, drinks, and anything else covered.
7. A Castle in Ireland – Spending your honeymoon in a historic Irish castle is the stuff of which dreams are made. Consider a stay at the elegant stone fortress, Dromoland Castle, which hosts many of Ireland's state visitors, or the five-star Glenlo Abbey Hotel in Galway, with its rolling hills, championship golf course, and gourmet dining.
8. Bed and Breakfasts in New England – The New England countryside abounds in small, historic bed and breakfast inns and the region's scenery is enchanting any time of year – from the legendary fall foliage to the sparkling summer seashores. Explore the region's many parks and hiking trails; shop for antiques and homemade crafts in unique village stores; or sample fresh-from-the-sea lobsters, clams, and other seafood delights.
9. Turks and Caicos Islands – just an hour's flight away from south Florida, these islands offer some of the world's most beautiful stretches of white sand beach. Plus, at least in this writing, they are much less developed than other Caribbean island resorts. In addition to beach activities, you can explore the islands' coral reefs, try your luck at one of the small island casinos, or dine seaside on a fresh conch.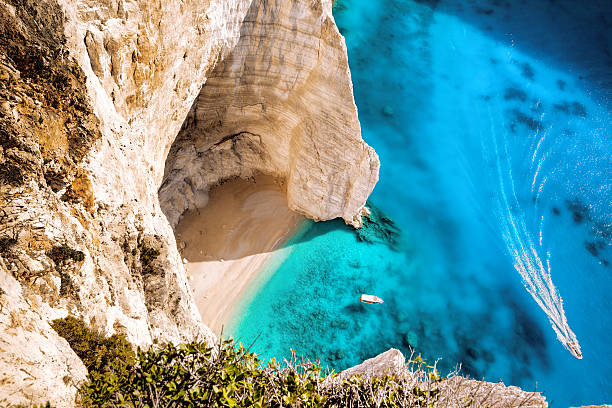 10. A Greek Island – From Mykonos to Corfu, from Crete to Santorini, the Greek Islands enchant with crystal clear water, simple and deliciously prepared food, white-washed buildings, and innate Greek friendliness. Plus, accommodations, food, and fun on the islands are surprisingly affordable. Build your own vacation package choosing from thousands of hotel+flight